No sugar and water added, preservative free!
100% COLD PRESSED APPLE JUICE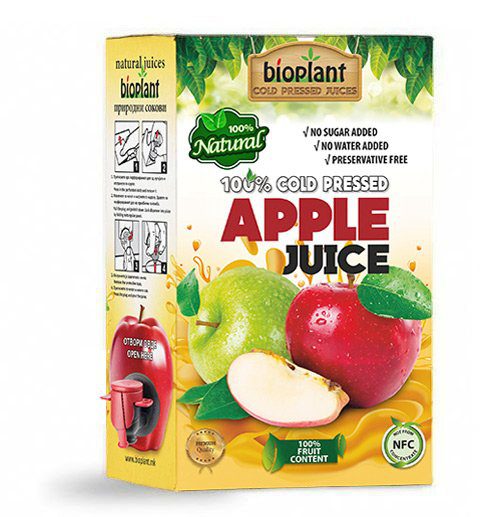 BIOPLANT apple juice is produced in Macedonia, from Macedonian apples. Through generations of careful selections and combinations of our unique apple varieties we have managed to produce a blend that eviscerates an amazing juice with the perfect blend of apple aroma and fruit sugars, with unmatched taste and quality suitable for all generations. This amazing juice is not from concentrate, sugar or other sweeteners, artificial aroma or preservatives – as is common practice for many producers of so-called "natural" juices.
Nutritive values per 100ml juice:
Energy: 58 kcal/244 kJ
Fat: 0,00 %
Carbohydrates: 14,20 %
Fiber: 0,25 %
Protein: 0,44 %
Salt: 0,035 %
Benefits of apple juice
Bioplant juices do not contain any added water or taste enhancers! Due to this purity standard no two juices are the same, as no two apples are the same. Some are a little sweater some a little bitter, the beauty that is brought about by the native apple varieties of Macedonia. Timing, season have a significant impact, to say nothing of our efforts to provide pure juice with no added water or flavors or chemicals.
We use the latest apple-pressing technology, thus preserving all the valued nutrients. This highly pure juice is short-pasteurized to preserve all the flavors present in these special apples.
BIOPLANT apple juice is rich in potassium and natural acids. Analyses show that these nectars contain at least 62% more polyphenols compared to juices from concentrate and other watered-down varieties. Polyphenols prevent oxidation and deposition of LDL (bad) cholesterol in blood vessels. Increased levels of LDL increase the risk of heart diseases. Therefore, apple juice is especially beneficial to individuals with blood vessels problems and heart diseases, as well as prevention among healthy individuals.
Other studies show that apple juice has beneficial effects on brain and mental health among adults, thanks to the antioxidant properties of polyphenols. Studies suggest they protect brain cells from damage that can be caused by unstable molecules called free radicals.
We pack BIOPLANT apple juice in 1.75l bag-in-box only. For best quality and freshness, we recommend to use the juice within 30 days after opening.